HÖRLING + OSSENE
Utvandranar från det gamla land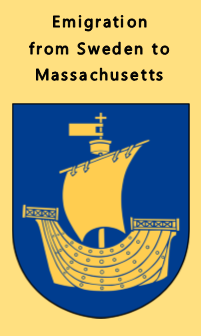 [1] Albertina Hörling
[2] Julius Ossene married Albertina Hörling
[3} Left Döderhult Sweden for Worcester, Massachusetts
[4] Maria Lovisa Hörling
[5] Bengt Jönsson married Maria Lovisa Hörling
[6} Left Stockholm (Vasastan) Sweden for Cambridge, Massachusetts
SVENSK RÖTTER
Maria Lovisa Hörling and Albertina Hörling
Maria Lovisa Hörling and her sister Albertina Hörling were born in the Döderhult parish of Småland. Maria was my great grandmother. She was born in 1840 to her parents Anders Fredrik Hörling and Lovisa Westerström. I am still learning about Maria's upbringing. I am not sure where she met her husband, my great grandfather Bengt Jönsson. I have a nephew Anders and my middle name is Fredrik. So that is a nice way that I relate to Anders Fredrik Hörling in addition to being a descendant of him.
Döderhult församling
Döderhult district is a district in Oskarshamn municipality of southern Sweden which is located in Kalmar county in eastern Småland. The district was established on January 1, 2016. This district lies northerly, southerly and westerly of Oskarshamn on the part of the Baltic seacoast known as Kalmarsund.
Prior to the land reforms of 1971, Döderhult district was part of the area that included the city of Oskarhamn. Prior to 1967 the area was known as Döderhult församling (parish in English). The area corresponded to the boundaries of Döderhult parish until the end of December 1999.
The name Döderhult comes from the 1312 church village of Dudhraholth. The two-part name means "slow-moving water" (döder) "little forest" (hult).
Albertina Hörling and Julius Ossene
Albertina Hörling was born in about 1847. So Albertina was a younger sister to Maria. Albertina met her husband Julius Ossene in Sweden and married there. Julius was born in about in 1838. I do not know where he was born. But Julius was almost 9 years older than his wife Albertina. I do not know how common that was to have such an age difference between husband and wife.
Albertina and Julius Ossene left Sweden in 1870 and arrived in Connecticut by way of the NYC Immigration Center at Castle Garden, New York. I believe that they lived in New Haven. In Connecticut the Ossenes had two children, five years after arriving from Sweden. The Birth Registrations list New Haven as the place of birth. Their first child was a girl - Julia Alberta Ossene, born in 1875. You can see that her name was based on her parents' names. Alberta is a short form of Albertina. Their next child was a boy, Albert Julius Ossene, born two years after Julia in 1877. His name is also based on his parents' names. The closeness of these names is amazing.
The city records show that the Ossene family was living in Worcester, Massachusetts in 1880. Another daughter, Alfreda Julia Ossene, was born in Worcester in 1881. Another son, Adolphus Julius Ossene, was born in Worcester on Oct 6, 1882. In Worcester, the Ossene family lived on Granite Street. Mr. Ossene worked as a sales manager for a clothing manufacturer. Mrs. Ossene worked as a correspondent for Skandinavia, one of the Swedish language newspapers in Worcester. On May 1, 1918 the Skandinavia newspaper was purchaseded by the other, now larger Swedsih language newspaper, Svea. Albertina Ossene continued to work as a correspondent for Svea.

The Ossene family attended the First Swedish Lutheran Church, Worcester's first of many Scandinavian churches. They could easily have been members of one or more of Worcester's numerous Swedish social organizations. It will take more research to know more details about their lives. The Swedish reference librarian at the Worcester Public Library had never heard the name Ossene before. The Ossene family were the only people with that last name in Worcester. And Worcester had many thousands of Swedes living there in 1900. Thinking the name might have been changed when Julius and Albertina arrived in the USA in 1870, I have researched variations of the name in Swedish records but have not found a family name that comes close to Ossene.
The Ossenes and their descendants are my cousins. I have never met them although my sister has. We have lost track of them and would appreciate hearing from them.
---
Cambridge Chronicle
10 May 1902
REAL ESTATE
A lot of 2,870 feet of land, with frame building, on Norfolk street, near Hampshire street, is conveyed by Hannah R. Welch, executrix and trustee, to Bengt Johnson.
My great grandparents, Bengt Johnson and Maria Lovisa Johnson, bought a house close to where the Swedish Evangelical Mission church was being built. Their daughter, Anna Margareta Johnson, married Brewer Anton Anderson in 1904. They lived at Anna's parents' house at 269 Norfolk Street. This is where their son, my father, Leroy Anderson was born in 1908.
---
Bibliography
Trulson, Anton H. and Ekblaw, W. Elmer; "Who's Who in Viking Industry and Craftsmanship in Northeastern United States", Svea Publishing Company, Worcester, Massachusetts, 1946.


Backlund, J. Oscar. "A Century of the Swedish American Press", Chicago Swedish American Newspaper Co., 1952.


Beck, Robert N. "Brief History of the Swedes of Worcester", Swedish-American Historical Quarterly, July 1959 105-117.


Beijbom, Ulf A. "The Swedish Press; The Ethnic Press in the United States", Sally M. Miller (ed.) New York, Greenwood Press, 1987


Nutt, Charles. "History of Worcester and its People", New York. Lewis Historical Publishing Co., 1919.