Svea Newspaper (Tidskrift)
1897 - 1966
SVEA
Newspaper of Worcester, Massachusetts
From 1918 to 1966,
Svea
was the Swedish language newspaper with the largest circulation in the eastern United States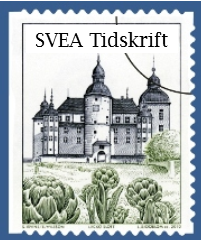 [1] Hans Trulson
[2]
Svea
Newspaper
[3] Francis Trulson
[4] Anton Herman Trulson
[5}
Svea
acquires
Swedish News
April 1918
[6]
Svea
acquires
Skandinavia
May 1918
Hans Trulson
Svea
Newspaper, Svea Publishing Company,
The Swedish Press Inc. and Swedish newspapers
in the Northeastern United States
Hans Trulson (1846 - 1908) was a Worcester, Massachusetts businessman and newspaper publisher.
Early Years
Hans Trulson was born August 23, 1846 in the village of Munkatågarp, Tosterup district, town of Inglestad in Skåne County, in southern Sweden. He emigrated from Sweden in 1869 at age 23. Trulson arrived in Quebec, Canada in 1869 and traveled to Chicago before settling in Kansas City, (State ?) where he was a farmer for three years. Trulson found the weather to be too dry and too hot for farming in this part of the middle west and so moved east to Worcester, Massachusetts in 1872 where he found work with the Washburn & Moen Company. He married Anna Carlsson on September 23, 1873 in Worcester. Anna was also a Swedish immigrant. She was born in the town of Rönneby in Blekinge County in southern Sweden. Anna was the daughter of Carl Ericson of Rönneby.
Businesssman
Trulson opened a grocery store in 1880 at the corner of Lincoln and Summer streets. He catered to the growing Swedish population in Worcester and found success with this business. Trulson was active in civic and political organizations and contributed greatly to the economic, social and cultural standards of Swedish Americans in Worcester.
Svea Publishing Company
Typographer Karl Swenson founded the newspaper "Svea" in Worcester, publishing its first issue in August 1987. Later that year, Hans Trulson organized Svea Publishing Company. Trulson published a Swedish language newspaper titled "Svea" "Svea" was published monthly for a year and a half when it became a semi-monthly and eventually a weekly.
April 1, 1918 Hans Trulson purchased the Swedish News, a Swedish language newspaper in Boston which had a circulation of ###. On April 14, 1918 a fire destroyed the original home of Svea in Worcester.
May 1, 1918 Trulson purchased Skandinavia with a circulation of 19,000 from the Swedish Publishing Company of Worcester. This acquisition included all of the assets of the Swedish Publishing Company including linotype machines and a large printing press. Svea moved to the building occupied by the Skandinavia newspaper at 311 Main Street in Worcester. After the acquisition of the Swedish News and Skandinavia, the two former newspapers were no longer published as separate newspapers. Svea became in 1918 the Swedish language newspaper with the largest circulation in the eastern United States.
Svea printed news of current interest from the northeastern US, the country as a whole, the world and from Sweden and its provinces. Other content included poetry, fiction, short stories, correspondence, commentaries and editorials about Swedish Americans, and issues and projects of concern to Swedish and American people. Like its founder Hans Trulson, Svea was both conservative and Republican in its political attitude.
Two fires destroyed both the publishing and the printing operations. The paper survived thanks to business manager Francis Trulson, son of Hans Trulson. Francis died Nov 1906. Hans died in 1908. Son Anton Herman Trulson served as editor and publisher of Svea, president and general manager of Svea Publishing Company.
Editors
Karl G Fredin
Anders Schoen
Gunnar Wickman
Carl Mattson
Henning Nelson
Hjalmar Nilsson
C.G. Norman
Printing Foreman
Carl G. Nilson, also served as Editor at times
Family
Francis Trulson, Anton Herman Trulson, Harold H. Trulson, Clara Trulson, Flora Trulson, another, another.
Hans Trulson, former publisher of Svea, the Swedish newspaper of Worcester, was born in Sweden, August 25, 1846, and died in Worcester, Massachusetts on March 26, 1908. He was educated in his native land and was one of the first half dozen coming from Sweden to locate in Worcester. He landed in America in 1869, going west to Kansas City, Kansas, where he was located for three years. He moved to Worcester in 1872 and lived here the remainder of his life. He was employed by the Washburn & Moen Company, now the American Steel & Wire Company, for a number of years, being foreman in his last five years with this concern. In 1880 he opened the first Swedish grocery store in Worcester, located in the Salisbury building, Lincoln Square, which business he conducted successfully for over sixteen years. His place of business became headquarters in a sense for the Swedish people and a bureau of information. To those of his people coming to this city as strangers Mr. Trulson was invariably a friend. In every possible way he gave them aid and comfort.
In every moment inaugurated by the Swedish residents here he took an active part, and he was a charter member of most every Swedish club and society organized in the city. He came to know the Swedish people of this city, almost without exception, but to the end of his life, even after the number had reached into the thousands, he made friends among all classes of people. He was essentially a man of large public spirit, though modest in manner and bearing and not ambitious for distinction on his own account. He realized the value of the public press, and when he sold his grocery business in 1897, he established a printing office, from which he issued the Svea, at first a monthly periodical printed in the Swedish language and widely distributed. Later the publication was changed to a weekly newspaper, now managed by his son. His son Francis became associated with him as soon as he had graduated from high school, and soon took over the business management. It was largely through his proficient management and hard work that the Svea was able to rise through its two disastrous fires, which entirely wiped out the Svea's plants on both occasions. A year and a half after the last fire Francis passed away, which was a heavy blow to his father and his family. The newspaper was an expensive experience, but Mr. Trulson persisted and eventually built up a valuable property. The Svea was circulated in all parts of the country and is regarded as a substantial and reliable journal. Besides giving the current news and the special news of the Swedish people, not only of this city but of many other towns and cities where Swedish people had settled, it had much miscellaneous reading. After the first fire he had located his plant in the building at the rear of E.G. Higgins' wall paper store, and the Worcester Spy printing plant occupied the ground floor of the same building. The second fire destroyed, in March, 1905, the fine new printing plant located at the Polish building on Front street. But he persisted and in the course of a few months he moved back to the new building of John E. Day, erected in the rear at No. 274 Main street.
Mr. Trulson married, in Worcester, Sept 20, 187_, Anna Carlson, of this city, daughter of Nils Carlson. They had seven children, four sons and three daughters. Albert, the oldest son, died in infancy; Flora, the youngest daughter, died in 1906; Francis, the manager of the newspaper at his death, November 1906; Mrs. Hulda Osterberg, living at No. 15 Devens road, Worcester; Mrs. Clara Fredin, living at No. 10 Perkins street, Worcester; Anton Herman (see biography) ; and Harold H., one of the present owners of the Svea Publishing Company, proprietors of the Svea; Harold H. Trulson, the youngest son, was educated in the schools of Worcester, graduating from the Post Business Institute in 1915. He is at the present time associated with his brother, Anton H. Trulson, in conducting the management of the paper.
Anton Herman Trulson
Anton Herman Trulson, editor and publisher of the Svea, was born in this city, February 6, 1885, son of Hans and Anna (Carlson) Trulson. He was educated in the public school and the English High School of Worcester. He learned the printing business in his father's office, step by step, gradually sharing the responsibilities of the management, and since the death of his father in 1908 he has been the manager and head of the Svea Publishing Company. The business was incorporated at the time of his father's death and is a close corporation, the stock being held by his heirs. The Svea has grown and prospered in later years and has a wide circulation in all parts of New England with branch offices in Boston and Providence. The services of exceptionally able editors have been secured. It has more than fifty correspondents in New England. In addition to the newspaper the company has a very complete printing plant and is favored with a large part of the job printing in Swedish, publishing many pamphlets and books in that language, and also much job printing in English, for which it is equally well equipped.
Member of Swedish Masonic Club, Svea Gille Association, Mr. Trulson married, June 27, 1913, Gertrude Erickson, daughter of Mr. and Mrs. Carl P. Erickson of Worcester. They have two children, Evelyn A. and Anton H. Jr.
Further
Progressive and secular in editorial content, Svea began as an 8-column weekly in October 1898. For a time Svea published 3 editions: "Worcester", "Rhode Island", and "Boston and World". By 1959 Svea was the only Swedish language newspaper in New England. In 1966 Nordstjernan of New York acquired Svea.
Svea began as an illustrated semi-monthly magazine in Worcester, Massachusetts, publishing its first issue in August 1897. The title refers to the female personification of the Swedish nation, literally meaning "of the Swedes." Worcester was home to a large Swedish community, and Svea was the second major Swedish language paper in that city, along with its competitor Skandinavia. Svea was founded by typographer Karl Swenson, but was quickly taken over by grocer Hans Trulson. The progressive and secular Svea switched to an 8-column weekly format in October 1898.
Svea suffered two fires, each of which totally destroyed its publishing and printing operations. The newspaper survived through the efforts of its business manager, Francis Trulson, son of publisher Hans Trulson. Francis Trulson died in November 1906, followed by Hans Trulson in 1908. Svea Publishing Company was incorporated at Hans Trulson's death to take over ownership of the paper, with all stock in the company held by Trulson's children. Trulson's son Anton H. Trulson served as editor and publisher of Svea as well as manager and head of Svea Publishing Company.
In 1915 Svea claimed a circulation of 19,000, making it one of the largest Swedish language papers east of Chicago. In 1918 Svea purchased Skandinavia and the two merged under the Svea name. Major editors of Svea included Karl G. Fredin, Anders Schön, Gunnar Wickman, Carl Mattson, Henning Nelson, Hjalmar Nilsson, and C.G. Norman. Printing foreman Carl G. Nilson also served as editor at times when there was no regular editor-in-chief. For a time Svea published three editions: a Worcester edition, a Rhode Island edition, and a Boston, Massachusetts, and world edition. By 1959 Svea was the only Swedish language newspaper published in New England and was still owned and managed by the Trulson family. In 1966 Svea merged with Nordstjernan of New York. The merged paper was titled Nordstjernan-svea until 1991; thereafter it reverted to the Nordstjernan title.
The other Swedish language newspaper Skandinavia in Worcester, Massachusetts was published by the Swedish Publishing Company.
Bibliography
Trulson, Anton H. and Ekblaw, W. Elmer; "Who's Who in Viking Industry and Craftsmanship in Northeastern United States", Svea Publishing Company, Worcester, Massachusetts, 1946.


Backlund, J. Oscar. "A Century of the Swedish American Press", Chicago Swedish American Newspaper Co., 1952.


Beck, Robert N. "Brief History of the Swedes of Worcester", Swedish-American Historical Quarterly, July 1959 105-117.


Beijbom, Ulf A. "The Swedish Press; The Ethnic Press in the United States", Sally M. Miller (ed.) New York, Greenwood Press, 1987


Nutt, Charles. "History of Worcester and its People", New York. Lewis Historical Publishing Co., 1919.