Updated: August 23, 2020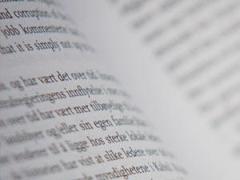 BÖCKER
Utrikeskorrespondenterna
Från runsten till Twitter
Lars Gunnar Erlandson
Carlsson Bökförlag, Stockholm, 2017, 512 sid.
ISBN 978-91-7331-854-9
I had been waiting to see this intriguing book for the past two years or more as Lars Gunnar Erlandson was bringing his opus to completion. I had the honor of meeting Lars Gunnar one day over lunch in Connecticut when the author was visiting his Aunt and my dear friend Margaret Sääf Erlandson Sinclair.
I found the details concerning the news coverage in Sweden between the years 1938 and 1945 especially interesting. I had never read anything about the Swedish government's censorship of the Swedish press during that time. In the future I may add my reactions to specific sections of this fine book. For now I will simply copy below the text from the publisher Carlssons Bokförlag website about Erlandsons book. I encourage anyone who would like to understand the Swedish perspective on world events of the 20th century to read: Utrikeskorrespondenterna by Lars Gunnar Erlandson. It is a fascinating book. [Publicerad på Svenska, Published in Swedish]
- Rolf Anderson
January 2018
~ ~ ~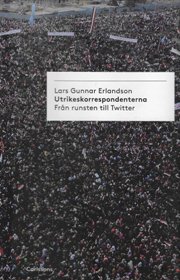 Erlandson går ambitiöst och elegant igenom hur våra medier under historiens gång rapporterat från och om utlandet och vad som sker där av politiska händelser, krig, olyckor, naturkatastrofer, dödsfall och kungliga giftermål. Utgångspunkten är hur strömmen av information i dag kommer till den nyfikne medborgaren genom elektroniska kanaler. Tidningarnas, radions och tv:ns historia på dessa områden belyses med enskilda exempel på hur utrikesreportrar, krigsreportrar, flygande korrespondenter och andra förmedlat omvärldens händelser – i grannländerna, i Europa, Afrika och Asien, Latinamerika och i synnerhet USA. Om en nyhet tog månader för 400 år sedan att nå Sverige från Sydeuropa och två veckor från Amerika för 100 år sedan, så handlar det i dag om samtidighet, som under de arabiska revolterna för några år sedan eller från terrordåden i Paris, dödsskjutningarna i USA, IS-dåden.
Genom att Erlandson själv har en lång yrkesbana som utrikeskorrespondent och kombinerat dessa erfarenheter med källstudier, så har Utrikeskorrespondenterna blivit en högintressant och vederhäftig framställning. Inte minst belyser han de stora tidningarnas historia liksom radio/tv. Här återfinns många stora journalister och deras insatser.
Lars Gunnar Erlandson var i många år Sveriges Radios utlandskorrespondent i bl.a. Mellanöstern, Latinamerika, Asien och USA. Bosatt i Stockholm och författare till ett flertal böcker, varav Mitt liv som röst avhandlar hans år som utrikesjournalist.
from the book jacket - Utrikeskorrespondenterna

---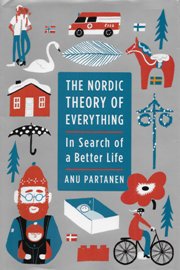 The Nordic Theory of Everything
In Search of a Better Life
Anu Partanen
HarpersCollins Publishers, 2016, 418 pp
ISBN 978-0-06-231654-7
Explaining all the differences between life in the Nordic region and the USA can be very difficult for me. As a Swedish American I am both proud of the USA, my native land, and of Sweden, the old country from where my father's parents came. Anu Partanen has done an excellent job of explaining the Nordic way of life and its role in in nurturing a happier, saner, and fairer society.
Just as people all over the world have considered the USA as a good model of a free and democratic society, the Nordic region has for many years been admired for how its people and governments have created a society built on the concept of equality. Partanen succeeds in explaining the Nordic values that are fundamenal to the quality of life in the Nordic region. Her well-crafted essays are both thought-provoking and inspirational. I share her optimism for how Americans can learn from the Nordic region and make life in America even better.
Much has been written about Nordic heritage for the American audience. The knowledge that comes from studying our roots is important and informs our cultural sensibilities as Nordic Americans. Anu Partanen has written a book that is forward looking, realistic and optimistic in explaining specifically how we can learn from the Nordic region. We have been told that Nordic people came to America for a better life. And that was, in many cases, very true. It is remarkable to understand that the people who never left the Nordic region have also found life to be very, very good - and, importantly, how they did it. We have Anu Partanen to thank for that.
- Rolf Anderson
April 2018
~ ~ ~
Anu Partanen's work has appeared in the New York Times and the Atlantic. Born and raised in Helsinki, Finland, where she was a journalist for many years, Partanen moved to the USA where she worked at Fortune magazine as a visiting reporter through the Innovation Journalism Fellowship at Stanford University.
In The Nordic Theory of Everything, Partanen compares living in the United States with life in the Nordic region, focusing on four key relationships - parents and children, men and women, employees and employers, and government and citizens. She debunks criticism that Nordic countries are socialist nanny states, revealing instead that it is we Americans who are far more enmeshed in unhealthy dependencies than we realize. Step-by-step, Partanen explains that the Nordic approach allows citizens to enjoy more individual freedom and equality than we do.
Partanen wants to open Americans' eyes to how much better things can be - to show her beloved new country what it can learn from her homeland to reinvigorate and fulfill the promise of the American dream. Offering insights, advice, and solutions, The Nordic Theory of Everything makes a convincing argument that we can rebuild our society, rekindle our optimism, and restore independence to our relationships and lives.
from the book jacket - The Nordic Theory of Everything

---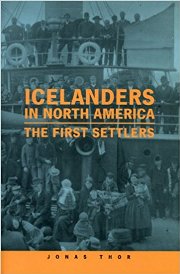 Icelanders In North America:
The First Settlers
Jonas Thor
University of Manitoba Press, 2002 , 306 pp
ISBN 978-0887556616
During the late 19th and early 20th centuries, thousands of Icelanders emigrated to both North and South America. Although the best known Icelandic settlements were in southern Manitoba, in the area that became known as New Iceland, Icelanders also established important settlements in Brazil, Minnesota, Utah, Wisconsin, Washington, Saskatchewan, and Nova Scotia. Earlier accounts of this immigration have tended to concentrate on the history of New Iceland. Using letters, Icelandic and English periodicals and newspapers, census reports, and archival repositories, Jonas Thor expands this view by looking at Icelandic immigration from a continent-wide perspective. Illustrated with maps and photographs, this book is a detailed social history of the Icelanders in North America, from the first settlement in Utah to the struggle in New Iceland.
---
Mannen i skogen
En biografi över Vilhelm Moberg
Jens Liljestrand
Albert Bonniers Förlag, 2018
ISBN 9789100126100
Vilhelm Moberg var en av det svenska 1900-talets största diktare, som med sina utvandrarromaner om Karl Oskar och Kristina skrev seklets mest lästa och älskade litterära verk. Samtidigt var han en av landets viktigaste opinionsbildare och länge vår mest spelade dramatiker.
Trots Vilhelm Mobergs unika status har det inte funnits någon biografi som omfattat hela hans gärning. Först nu, 45 år efter hans död, kommer boken som skildrar Moberg i helfigur. Jens Liljestrand berättar levande och fängslande om en av våra mest komplexa, kontroversiella och storslagna kulturikoner. Mannen i skogen är den definitiva boken om Vilhelm Moberg och hans stund på jorden.
Jens Liljestrand är kulturskribent, kritiker och författare. Han är Sveriges största auktoritet på Vilhelm Moberg, och disputerade 2009 med avhandlingen Mobergland: personligt och politiskt i Vilhelm Mobergs utvandrarserie. Sedan 2013 är han biträdande kulturchef på Expressen.
Albert Bonniers Förlag was founded in 1837 and is one of the oldest and most respected publishing houses in Sweden. They now issue approximately 100 titles per year, including domestic fiction, poetry, narrative non-fiction and translated fiction.
---